Tour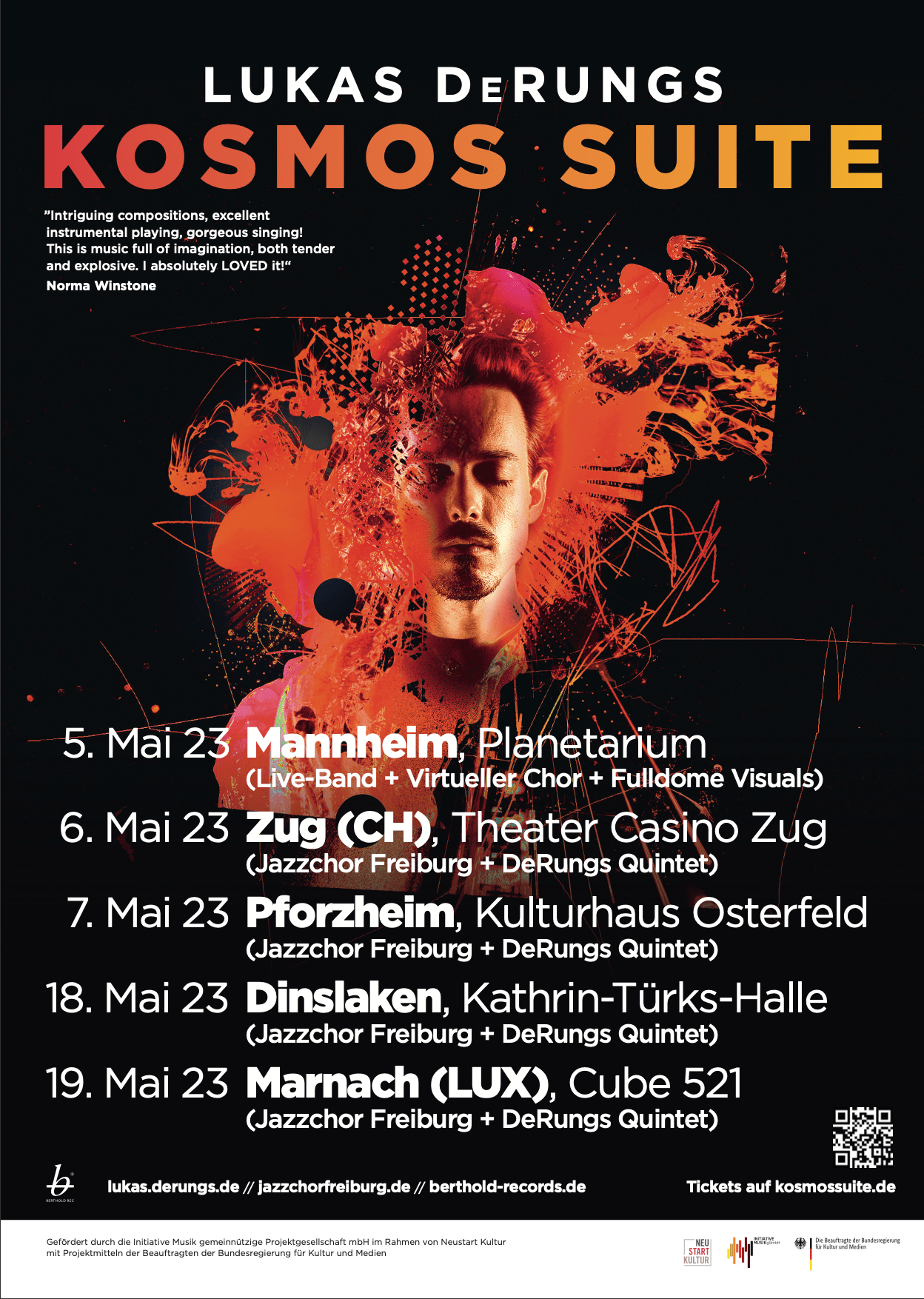 | | |
| --- | --- |
| 28.10.22 Mannheim | Konzert liegt in der Vergangenheit |
| 29.10.22 Offenburg | Konzert liegt in der Vergangenheit |
| 30.10.22 Trier | Konzert liegt in der Vergangenheit |
| 02.11.22 Bremen | Konzert liegt in der Vergangenheit |
| 03.11.22 Münster | Konzert liegt in der Vergangenheit |
| 04.11.22 Ingelheim | Konzert liegt in der Vergangenheit |
| 5.5.23 Mannheim, Planetarium | Tickets für Mannheim |
| 6.5.23 Zug (CH), Theater Casino | Tickets für Zug |
| 7.5.23 Pforzheim, Kulturhaus Osterfeld | Tickets für Pforzheim |
| 18.5.23 Dinslaken, Kathrin-Türks-Halle | Tickets für Dinslaken |
| 19.5.23 Marnach (LUX), Cube 521 | Tickets für Marnach |
About Kosmos Suite
KOSMOS SUITE is a concept album and a live show. It's an original composition for chamber choir and jazz ensemble in suite form, written by Lukas DeRungs, based on writings by contemporary poets. It has been recorded on the 7th and 8th of September 2021 in St. Mark's Church in London, featuring some of the UK's most exciting young improvising artists - such as Karim Saber on guitar, Immy Churchill on vocals and Laurence Wilkins on trumpet.
lyrics and poetry by Kamilah Aisha Moon (USA), Constanze Zacharias (DE), Immy Churchill (UK), Dominique De Groen (BE), Nick Flynn (CAN), Ameen Rihani (USA)
line up: piano, drums, double bass, guitar, trumpet
SATB chamber choir, solo voices, spoken word
duration: 45 min (album version) // 70 min (live version)
KOSMOS SUITE ist eine explosiv-kontemplative Fusion aus der emotionalen Dichte eines vielstimmigen Vokalensembles und der physischen Energie einer streckenweise improvisierenden Jazzformation, ein "Klangerlebnis von poetischer Wucht, eine Live- Science-Fiction-Serie in Musikform, zwischen Jazz des 21. Jahrhunderts und klassischer Chormusik, zwischen Popsong und freier Improvisation, zwischen Ordnung und Chaos". Die Suite basiert auf englischen Texten vier zeitgenössischer Dichter:innen und beschreibt die Reise durch ein menschliches Leben in fünf Episoden: Spark (Neubeginn) / Blast (Expansion) / Life (Empathie) / Void (Angst) / Home (Heimkehr).
Es geht um Fragen nachdem Warum, über Tod und Leben, Dunkelheit und Licht, Zeit, Sein, Verbundenheit, Verwirrung und Vertrauen. Die aktuellen Krisen - Pandemie, Ukraine- Krieg und Klimakatastrophe - bedrohen nicht nur den Kulturbetrieb und das Leben vieler Menschen in existenzieller Weise, sondern stellen das humanistische Ideal der stetigen Weiterentwicklung der Menschheit in Frage. Sie drängen uns zu mehr Demut, Ressourcenschonung und Eingliederung in ein naturverbundenes Gleichgewicht.
Das Album KOSMOS SUITE wurde am 9. September 2021 in der St. Mark's Church London aufgenommen und featuret 19 Londoner Künstler:innen, Karim Saber (Gitarre), Laurence Wilkins (Trompete), Immy Churchill (Gesang, Texte), Oren Mcloughlin (Drums), John Jones (Bass), Eliana Veinberga (Gesang) und der von Lukas DeRungs gegründete KOSMOS Chamber Choir. Release am 28.10.22 bei Berthold Records.